What does RV (recreational vehicle) plywood mean?
It is commonly called RV (recreational vehicle) plywood and is created and produced, especially for use in RVs or motorhomes. It is a specific type of plywood that satisfies the standards and specifications of the RV industry. Cabinets, walls, flooring, and chairs are all interior elements and RV furnishings are often built using plywood. Because RVs are frequently subjected to various weather conditions when traveling, they are made to be compact, strong, and resistant to moisture and temperature changes.
Most plywood used in RVs is from composite materials or fine hardwood veneers. It could have specific coatings or treatments to increase its resistance to moisture, mould, and mildew. The plywood sheets are either pre-finished or prepared for additional finishing treatments, and they are typically available in conventional sizes to meet the precise specifications of RV interiors. Manufacturers may make sure that the interior parts of recreational vehicles are built with materials that are especially suited to resist the particular demands and challenges of the RV environment by utilizing RV plywood.
RV Plywood: The Support Structure of Your Recreational Vehicle:
RV (recreational vehicle) plywood is essential for designing and operating recreational vehicles (RVs). It acts as the vehicle's backbone, providing stability and structural support. RV plywood is made particularly to fulfill the demands and specialized needs of the RV sector. Let's go into further depth about its importance and applications.
RV plywood is widely used in building RV walls, floors, and roofs to provide structural integrity. It has exceptional strength and durability, which are necessary for withstanding the rigours of road travel and offering a solid living environment.
Despite its robustness, RV (recreational vehicle) plywood is very lightweight compared to other building materials. This weight advantage helps lower the RV's overall weight, increasing the vehicle's handling and fuel economy.
A significant quality of RV plywood is water resistance. To avoid problems like warping, delamination, or mould growth, it is often made using water-resistant adhesives and treated to tolerate moisture and humidity.
RV plywood may be utilized in many places of the vehicle because it is available in various thicknesses, grades, and sizes. Thinner plywood may be appropriate for internal paneling or cabinets, whereas thicker plywood is typically used for flooring and structural elements.
Smooth Surface for Finishing:
RV plywood has a flat surface, which makes it a perfect foundation for adding different treatments, such as paints, laminates, or veneers. RV owners may now modify the interior design to suit their tastes.
Sound and Thermal Insulation:
RV plywood's sound and thermal insulation qualities result from its layered composition. It improves occupant comfort by decreasing outside noise transmission and acting as a shield against heat or cold.
RV plywood is very simple, making installation and alterations simple. RV makers and do-it-yourself enthusiasts will find it useful since it can be cut, drilled, and moulded to match certain design needs.
The Benefits of High-Quality RV Plywood: Increasing Comfort and Durability:
Recreational vehicles (RVs) are made more durable and comfortable using high-quality plywood. RV plywood is utilized in various products, including cupboards, furniture, flooring, and walls. High-quality plywood has several benefits for these uses, including higher strength, prolonged durability, and improved travel comfort.
RV plywood must be strong and resilient to handle the strains and stresses of continuous movement, road vibrations, and temperature fluctuations. Superior materials and manufacturing processes create high-quality plywood, increasing its strength and longevity. It can endure transportation stresses without warping, breaking, or losing quality over time.
A key component of the RV experience is comfort. Building flooring and furniture from high-quality plywood might result in a more cozy and pleasurable space. It reduces the possibility of uneven flooring or squeaking by providing a steady, level surface for walking. Furthermore, high-quality plywood may be utilized to build supportive, comfy furniture, offering a comfortable place to sit or sleep while traveling.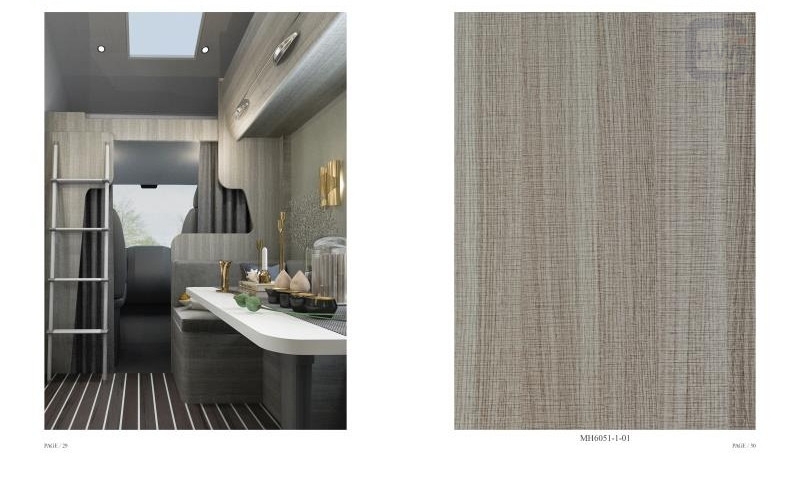 Although excellent RV plywood may be more expensive initially, it is frequently a more affordable option in the long term. Due to its strength and resilience to damage, fewer repairs or replacements are required more frequently. RV owners may prevent problems by using inferior materials by spending money on high-quality plywood, saving money on future repairs and maintenance.
XUZHOU CHANGYU WOOD is the leading manufacturer of RV (recreational vehicle) plywood:
Established in 2002, XUZHOU CHANGYU WOOD has a wealth of skilled labour and wood material resources. It is situated in the heart of the HuaiHai economic zone. We always focus on wood material solutions in the Automotive Interior Panels, furniture-making, and construction fields.
We always construct a lovely and clean name HW WOOD, which promises honest and high business standards with our valued clients. We are seeking sustainable use of wood resources via quality first.
To give technical assistance for the company's development, the business entered into a joint venture collaboration agreement on technology transfer with ICC S.R.L. in Sao Paulo, Italy, in 2014. 2014 we significantly improved our production technology, equipment, and workforce following our new plan. We boosted the automatic machines, improved employee training, and identified new manufacturing technology to fulfill client orders.
To satisfy the demands of high-end consumers, we update and do away with the original low-standard goods while concentrating on creating furniture boards for environmental protection, RV plywood, and high-grade HPL plywood for environmental protection with higher technological content.
Conclusion:
Any recreational vehicle needs plywood, a crucial part of the vehicle. It is necessary for the strength and comfort of the RV (recreational vehicle) plywood and is used in building walls, flooring, and furnishings. High-quality plywood is necessary for the RV to survive a long time and provide a comfortable living environment. The ISO quality management system guarantees that quality comes first. XUZHOU CHANGYU WOOD adheres strictly to national GB and HPVA quality requirements and has received certification from the EU, CE, and FSC.
---
Post time: 7月 28, 2023