What is Laminated Board? Laminate is a composite material. Layers of wood, paper or other materials are bonded together by using high pressure and adhesives. These layers usually consist of a core material such as particleboard, medium-density fiberboard (MDF), or plywood. And a decorative surface layer made of materials such as melamine, high-pressure laminate (HPL), or wood veneer.
Applications of Laminated Board
1) Furniture: Laminated board is a popular choice for creating various furniture items, such as tables, shelves, cabinets, and wardrobes. Its durability and resistance to wear make it an ideal material for furniture that experiences daily use.
2) Flooring: Laminated board is often used to create high-quality laminate flooring. With a wide range of designs and textures available, it can mimic the appearance of hardwood, stone, or even concrete.
3) Wall Paneling and Partitions: Laminated board can be used for wall paneling and creating room partitions, adding a touch of elegance and style to any space.
4) Kitchen Countertops: Laminated board is a popular choice for kitchen countertops due to its resistance to moisture, heat, and stains.
5) Doors: Laminated board is often used for creating doors, especially in commercial spaces where durability and low maintenance are essential.
Advantages of Laminated Board
1) Durability: Laminated board is known for its durability, making it an excellent choice for heavy-use applications. It is resistant to scratches, stains, and impact, ensuring long-lasting performance.
2) Affordability: Compared to solid wood and other materials, the laminated board is a cost-effective option. Its affordability makes it accessible for a wide range of projects, from residential to commercial.
3) Low Maintenance: Laminated board requires minimal maintenance. Its non-porous surface can be easily cleaned with a damp cloth, making it a practical choice for busy households and workspaces.
4) Aesthetic Versatility: Laminated board offers a wide range of designs, colors, and textures, allowing it to mimic the appearance of various natural materials like wood and stone. This versatility enables it to seamlessly blend into any design scheme.
5) Environmentally Friendly: Laminated boards can be produced using recycled wood fibers and paper, reducing the demand for raw materials and promoting sustainability.
Aesthetic Appeal of Laminated Board
With advances in technology, the laminated board has come a long way in terms of design and visual appeal. Today, it can replicate the look and feel of various natural materials with remarkable accuracy. Wood grain patterns, stone textures, and even abstract designs are available, allowing you to create the perfect ambiance for your space.
Best Black Matt HPL Plywood – Fireproof Plywood
CHANGYU WOOD Co., Ltd. is a leading manufacturer of HPL plywood in China, offering the best quality Black Matt HPL Plywood. HPL stands for "High Pressure Laminate." This is an engineered plastic laminate that is added to the front and back of plywood under high pressure.This process makes the plywood stronger, more durable, and resistant to fire.
One of the key features of CHANGYU WOOD's Black Matt HPL Plywood is its fire-resistant properties. This type of plywood is ideal for use in buildings, structures, and furniture where fire safety is a primary concern. With its high-quality construction, this plywood can withstand high temperatures. It reduces flame spread and provides a layer of protection against fire hazards.
CHANGYU WOOD also offers a range of options when it comes to plywood customization. Customers can choose from a variety of face/back designs, including custom designs that suit their specific needs. The plywood core is available in Poplar, Eucalyptus or Combi. Dimensions can be customized as 1220x2440mm, 1250x2500mm or any other custom dimensions. The thickness of the plywood can vary from 3mm to 18mm. The glue used can be E0, E1, E2 or any other custom glue.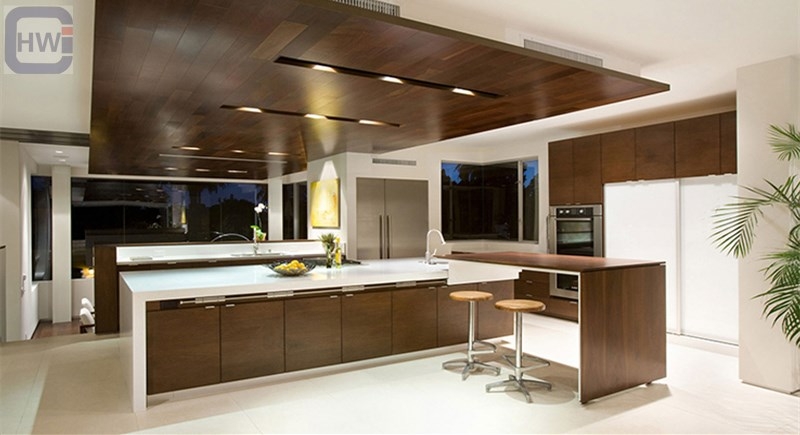 Engineer Veneer Fancy Plywood – Decorative Veneer Plywood
Engineered Veneer Fancy Plywood, also known as Decorative Veneer Plywood, is a versatile and popular material used in various applications such as furniture, interior decoration, and architectural design. It is a plywood veneer with a hardwood veneer. Such as red oak, ash, white oak, birch, maple, teak, Sapele, cherry, beech, walnut, etc.
Engineered Veneer Fancy Plywood is available in a wide range of hardwood veneers, each with its unique characteristics and color. For example, red oak fancy plywood grades are AAA/AAA, BB/BB, A/B, B/C and c/c. While natural ash, red beech, white oak (Q/C), lilac, Sapele (C/C) and Natural Teak (C/C) are also popular choices. This variety of options allows for greater flexibility and customization in terms of design and style.
In addition to its aesthetic appeal and durability, Engineered Veneer Fancy Plywood is also eco-friendly. Most manufacturers source their wood from responsibly managed forests, ensuring the sustainability of their products. Some plywood manufacturers also use low VOC (volatile organic compound) adhesives, reducing the environmental impact of their production process.
High-Quality Formica Plastic Laminate Sheets for Sale
If you're looking for high-quality Formica plastic laminate sheets for sale, CHANGYU WOOD is a trusted supplier to consider. Their Formica plastic laminate sheets are durable, versatile, and available in a range of designs to suit your project needs.
One of the key benefits of Formica plastic laminate sheets is their durability. The sheets are resistant to scratches, stains, and impact, making them ideal for high-traffic areas like kitchens, bathrooms, and commercial spaces. They are also easy to clean and maintain, which is a significant advantage for busy households or businesses.
Changyu Wood's Formica plastic laminates are available in a variety of colors, patterns, and textures to suit a variety of design styles. Whether you want a classic woodgrain look, a sleek, modern design…or a vibrant pop of color, you'll find the right option in their inventory. These panels can be used for countertops, cabinets, furniture, and wall panels. Provide cost-effective and attractive solutions for many applications.
Conclusion
The laminated board is a versatile, durable, and affordable building material that offers endless design possibilities. Whether you are a professional architect, interior designer, or a DIY enthusiast, the laminated boards can provide the perfect solution to create beautiful, functional, and long-lasting spaces.
---
Post time: 4月 18, 2023