What does fireproof plywood mean?
The building material known as fireproof plywood, or fire-resistant plywood, is specialized and made to withstand the impacts of fire and heat. Traditional plywood, which consists of glued-together layers of wood veneers, is prone to catching fire and advancing the flames. The engineering of plywood, however, includes additives and treatments that improve its fire resistance, giving it a considerable increase in resistance to fire-related dangers. The plywood's composition and treatment are crucial to the product's efficiency. A protective barrier that slows down ignition and combustion is created during manufacture by adding certain fire-retardant chemicals.
This extra line of defence stops the plywood from accelerating the spread of the flames, giving firefighters and people precious time to respond and flee. This plywood is used in many different sectors of buildings, including interior finishes like furniture and ornamental panels, as well as structural elements like walls, roofs, and floors. It is a flexible and beneficial option for construction projects that enhance fire safety because it can preserve structural integrity while fending off fire. Ultimately, this plywood is essential for establishing safer surroundings and defending people and property from the destructive consequences of flames.
Enhancing Fire Safety in Construction with Fireproof Plywood:
Building fire safety is a serious issue since destructive fires worldwide result in the loss of lives and property. Traditional building materials like wood may be quite flammable; therefore, construction experts and homeowners highly emphasize fireproofing. Fireproof plywood is a novel material that delivers improved fire protection without sacrificing structural integrity or aesthetic appeal. It is a game-changing solution. In this article, we examine the characteristics, advantages, and effects of employing this plywood in buildings.
The Creation of Fire Resistance:
Gypsum boards, concrete barriers, and fire-retardant coatings have all been used to ensure fire safety. These techniques have helped to increase fire resistance, but they are frequently difficult to install, need constant upkeep, and may look ugly. On the other hand, this plywood provides a thorough and efficient response to these issues.
Which characteristics of Fireproof Black Matt HPL Plywood are more dependable?
High-Pressure Laminates (HPL) are a high-tech, environmentally friendly ornamental material. It has exceptional qualities, including resistance to impact, UV rays, weathering, abrasion, scratching, chemical corrosion, ease of cleaning, fire prevention, and antistatic and moisture-proof. HW High-Pressure Laminate (HPL), which consists of an impact-resistant kraft, a decorative sheet, and a wear-resistant overlay, provides enduring beauty, function, and performance. HW's HPL is a high-performing, long-lasting engineered surface with a wide selection of beautiful pattern and texture options that can be utilized for both vertical and horizontal applications. HPL's worth is frequently underrated. The pinnacle of engineered laminates, HW's HPL is a cost-effective option with lower order minimums, simpler maintenance, and quicker lead times than comparable surfaces. HPL is also offered in speciality products, Writable Surfaces, and more. It is perfect for worktops, cabinets, fixtures, shelves, architectural doors, and walls.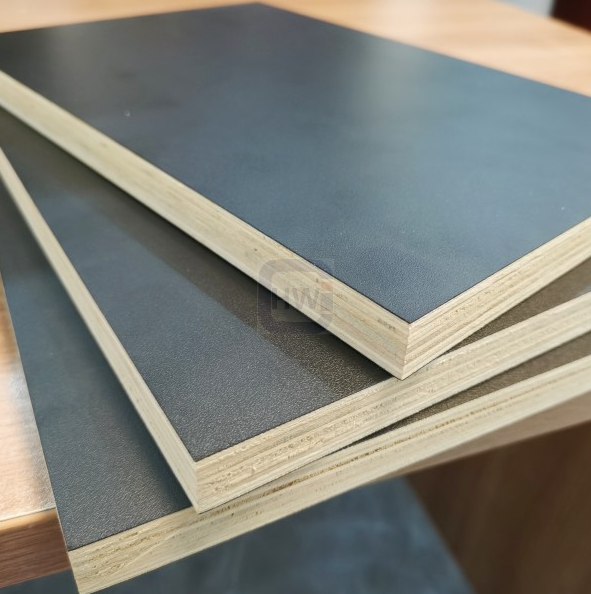 Excellent fire resistance is a Black Matt HPL Plywood feature. High-pressure laminate is a safe option for usage in settings where fire safety is a concern since the surface acts as a barrier and inhibits the spread of flames. Special additives are used in the design of fireproof plywood to improve its capacity to withstand heat and fire. These chemicals form a shield that stops flames from spreading and considerably reduces the combustion rate.
HPL Plywood has a smooth surface that is simple to clean and maintain. It is stain and spill resistant and easily cleaned with a moist cloth.
HPL Plywood is easily adaptable to diverse applications since it comes in various thicknesses and sizes. To meet certain design specifications, it can also be cut and shaped.
Black Matt HPL Plywood offers a clean, contemporary appearance that works well for many applications. It gives every interior area a refined and beautiful finish that might improve its appearance.
HPL plywood is a strong, scratch-, impact-, and moisture-resistant material. As a result, it is a great option for busy places like shopping malls, schools, and hospitals.
It may be utilized for various purposes, including flooring, furniture, walls, and ceilings. Its simple installation cuts down on both labour expenses and construction time.
Versatility in terms of appearance:
Architects and designers like the aesthetic versatility of fireproof plywood. It can easily fit in with several design styles because it may be stained, painted, or laminated.
Consequences for Fire Safety:
The use of fireproof plywood has the following positive effects on fire safety:
The danger of flames spreading quickly may be considerably decreased by including bulletproof plywood in building designs. This results in increased safety for the building's inhabitants and nearby buildings.
Building code compliance:
Many building codes provide for the implementation of specified fire protection measures. Using this plywood can help you comply with these rules and add peace of mind.
Because insurance carriers view the lower chance of fire damage as a plus, buildings built with fire-resistant materials may be eligible for cheaper insurance prices.
Conclusion:
This revolutionary product has many advantages, making it the best option for builders and homeowners. In this article, We'll review some of the major benefits of choosing fireproof plywood for your upcoming building project. We boosted the automatic machines, improved employee training, and identified new manufacturing technology to fulfil client orders. To satisfy the demands of high-end consumers, we update and do away with the original low-standard goods while concentrating on creating furniture boards for environmental protection and high-grade HPL plywood for environmental protection with higher technological content. XUZHOU CHANGYU WOOD invites domestic and international business owners to visit and explore potential partnerships. We also hope that socially talented and enlightened individuals will join our organization to further changyu's excellent work.
---
Post time: 8月 10, 2023